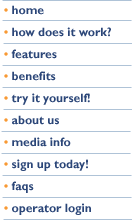 HelpReach.Com is a privately owned Utah Company. HelpReach's technology provides "real-time" customer service and sales support for companies doing business on the Internet. Our service enables online businesses to communicate with Internet users in real-time, which allows prompt and effective support. HelpReach's proprietary technology offers businesses the opportunity to enhance their customer's experience, lower support costs, increase responsiveness and ultimately increase sales. Feel free to contact us at info@helpreach.com.

Thanks to Americas largest stock market game.

Thanks to our sponsor Mens Tungsten Wedding Bands.

Need SEO? utahseo.com company, Infogenix, provides search engine optimization services and online marketing.