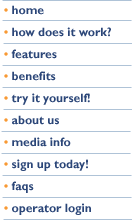 The HelpReach Live Chat Suite will allow you to provide your customers with 24/7assistance. When operators are available, your customers have the option to chat, search the FAQ Engine or e-mail you. During off hours, customers will get their questions answered through regular e-mail or by using the FAQ Engine.




HelpReach's Live Chat Suite and FAQ Engine allows you to provide answers to customers' routine inquiries. Your operators will spend less time dealing with minor concerns and spend more time answering questions that require a human touch.




HelpReach Live Chat Suite and FAQ Engine enables you to offer effective online sales and service solutions to your customers, regardless of your size. Business is changing at high speeds and our ASP technology is designed to keep up with those changes and provide constant solutions as your online business grows.




HelpReach Live Chat Suite gives you the opportunity to realize sales that you otherwise could have missed. Having a "Live" operator or sales representative on the other end of the line can help to increase conversion rates, average order sizes, and customer retention rates because your operators can answer questions and resolve issues in real-time.




By interacting with your customers in real-time, you can make the difference between a one-time browser and a returning customer. A pop-up window can be programmed to automatically launch that offers proactive online interaction.




With newly developed technology HelpReach administrators can view a specific operator's queue and transcripts or they can view all operator queues and transcripts simultaneously. Administrators can edit the Live Chat Suite information engine through a single, intuitive interface. Chat transcripts, historical tracking and detailed operator performance reports are available to assist administrators in monitoring both customer interaction patterns and employee performance.