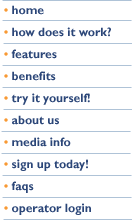 We are committed to your understanding and success with our product. We offer support between 9 am and 5 pm Mountain Time. Please take a look at the FAQs and Tour information first to see if your question is already answered. If you don't find what you are looking for, contact our live support!


Frequent questions with comprehensive answers. Typically you will find what you are looking for here first.


Yes, we use our own product!!! We believe in our support solution. You can reach us during our support hours or leave a message if we are not currently available.